The shit will hit the fan.
It will be messy – but it's how you Control the Splatter, that matters.
---
We've all heard the phrase "When the Shit hits the fan" and undoubtedly, we've all been through this mess more than once.
My question to you is – "How have you been handling the Splatter?"
The Splatter can be big, small, stinky, messy, slippery, new or old but the fact of the matter is that we have to clean it up.  It can't sit there, it can't continue to smell and it for damn sure won't go unnoticed by others.
How do you handle it…
react to it…
deal with it?
---
Let's talk about the Splatter for a minute. Each of us has our own special brand of Shit that we seem to forever be dealing with.  For some its weight issues, for others its finances, some lack patience, while others are always looking for instant gratification.
When these little shit storms kick up we typically have two reactions.
Flight or Fight; We either get the hell out of there or we dig in our heels and get ready for combat.
We know these reactions because we see them in ourselves, our co-workers and our loved ones.
For example, the fight response may be manifested in violent action, or angry and argumentative behavior while the flight response may be manifested through social withdrawal or denial.  Both completely normal and both reactions have been going on since prehistoric man first decided whether to run from a Tyrannosaurus or try to BBQ it.
When the shit does hit the fan it's our ability to control and handle the Splatter that matters.
Splatter Control – "The ability to manage emotions and actions in reaction to a to catastrophic situation while turning it into one of advantage"?
I've been learning and refining my ability to handle the splatter since I was an early teen.  I grew up in a household that had some major challenges and at times it felt like it was always Hitting the Fan and I was continually covered in splatter.
I remember one time where I think "Splatter Control" really began for me.  As clear today as it was then, I made a life changing decision – I was 15.  I decided that it was time for me to leave the situation and head out on my own.  For most 15 year old's this might have been a train wreck waiting to happen but for me it was the best move I could have ever made.  I was handling the Splatter – for the first time, I cognitively turned a potentially catastrophic situation into a better one.
---
Here's the 3 step method that I've refined over the years to handle my Splatter.
1) Acknowledge…
Ok, it's happened.
You can't go backwards – "that email which was meant to be a private conversation between you and your cubical mate has just been group mailed to the entire office".  Yeah.. you did say that about Fred in accounting… no going backwards from here.  You can't get it back, you can't change it and you sure as hell can't say it wasn't you.  Acknowledge that it's happened, take responsibility and realize that the only thing that matters is what you do now.
A great technique that I've learned for these types of moments is actually a breathing exercise called Box Breathing (here's a link to a cool app too).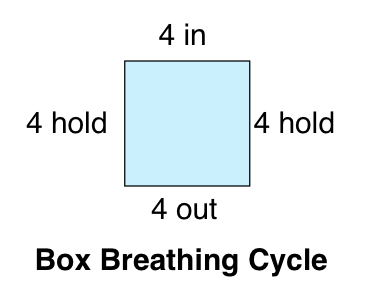 Box Breathing is used by special forces, police, fire and other first responders as well as martial artists as a way of grounding and centering themselves before taking action.
The method is simple and uses a "4 count" and you repeat the cycle 4 times.
Take a breath in for 4 seconds, Hold for 4 seconds, breathe out for 4 seconds and hold for 4 seconds. That's it.  Do that 4 times and THEN act.
You'll be amazed at what it does for your peace of mind, clarity and for your ability to make a rational decision rather than the typical fight or flight instinctive response.  Most police when they arrive at an accident or crime scene do at least 1 cycle to get themselves ready to go forward.
2) Assess…
Ok, it's happened, you've acknowledged it and you have grounded yourself.  Now you need to define the next possible steps.
But what are your realm of possibilities? 
There are undoubtedly many possible actions, solutions or words that you can use at this point but without putting your new situation into perspective you will never really handle the splatter to your advantage.  In assessing the situation you eliminate the potential for making a bigger mistake and spreading the Splatter pattern even larger.
Think about when you've had a bad day at the office and you head home to the family.  On those days your family has NO IDEA about the sh*t storm that is about to descend on them.  You're spreading the Splatter from work to home and this pattern will just continue until its run it's course.  You MUST STOP this kind of Splatter at all costs.
3) Align…
You've acknowledged, assessed and now it's time to align. 
The third step of this process is taking your current situation and aligning it with the best course of action that will get you closer to your desired result.  You must turn the potentially chaotic situation into one that benefits you or at least DOES NO HARM.  This is really the key….Do no harm.
Yes, it SUCKS that you sent out a group email by mistake but the worst thing you can do now is run away from it or attack, attack, attack.  Figure out the best way to align your next actions towards your desired result or goals.
Be heroic; Personally go up to "Fred in Accounting" and apologize.  Let him know you were venting with a peer and yes, you did screw up by sending out the group email.
OWN IT, make sure "Fred" is resolved and then clean up any other "Splatter" that managed to hit anyone else.  If you leave any unattended it will start to "Stink" and you'll continually have to deal with this smell.
When you align the new situation to your current pursuit you handle the Splatter in such a way that it affords you the ability to not only learn from the experience but also to benefit from it.
Remember – The Shit is going to hit the fan but it's how you handle the Splatter that matters.
«♦»
As always, I welcome all comments and thoughts.
If you're finding "The 365 Effect" interesting click HERE and grab my 30 Day of Small Daily Actions and make sure to follow me on Instagram @the365effect or Twitter @the365effect  for daily postings, videos and tips on how to make this year your best one ever.