What is it that makes you quit?
Have you ever asked yourself that question?  Chances are that the same thing comes up again and again because that's The Quitter Inside you. The Quitter manifests itself in our excuses and while for each of us these excuses may be different, their impact is the same.
We suffer.  We do less.  We get depressed. We give up.
How can we kill The Quitter Inside?
"Resolve never to quit, never to give up, no matter what the situation" Jack Nicklaus
I've had many times when I have wanted to quit.  I remember back in the days when I was Expedition Racing and pushing my mind and body into realms that they could never have possibly imagined.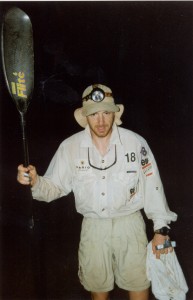 Picture this –  My team and I had already sailed, river kayaked (upstream), horseback ridden, trekked and Mountain biked over 350km of hostile and unforgiving Brazilian terrain, only to be faced now with 150km more.  We were all injured, tired, hungry and frankly not excited about anymore racing.  We were faced with a decision; STOP as a team since 2 of us could not continue due to injuries or re-evaluate and continue as a 2 person team. We made the hard choice to say goodbye to our team mates, get into our kayak and continue out on the course.
We were not more than 500m down the river when we came to a shallow rocky section where we needed to get out of the kayak and pull it past.  As we were moving the kayak I slipped on the rocks and fell on my hip.  Lying there in more pain than I have ever experienced with the water soiling my fresh and last set of anything resembling clean clothes, I was struck with a choice.  Lay here in pain, wallowing for a few more minutes, then with head hung low make my way back to the transition area and quit….. or get back up and attempt to succeed and finish what I started.   I got up and tried.  On that day I learned about my Quitter Inside.
So, how can you kill The Quitter Inside you? 
Learn these 3 simple steps, put them into practice and The Quitter won't have a chance.
Step 1 –
Succeed!  What ever you do, make the first conscious activity of your day into a success.   If you're like me you have goals, a schedule and a calendar that is bursting at the seams.   It's imperative that you start out each one of your valuable days by SUCCEEDING at something.  If a goal is to eat better, then as soon as you get out of bed prepare a healthy breakfast and get it in you.   Now mentally tick that box of success inside your head – YOU MET YOUR GOAL – you ate better.  Acknowledge the fact that you met your goal and let that success fill your body with a warm glow.  It will propel you into another success and another and so on as your day progresses.  Your excuses  – The Quitter Inside – have no power against a success mindset… the quitter withers away and crawls back into the darkness with the other cowards waiting ever so patiently for the opportunity to return.
"He that is good at making excuses is seldom good at anything else" - Benjamin Franklin
Step 2 –
Try! – Get out there and do it.  I don't care what it is that you're trying to do but you have to put yourself out there and TRY, TRY, TRY.  No one else is going to do this for you.  Let me repeat that:
NO ONE ELSE IS GOING TO DO THIS FOR YOU
You're the only one that can take the first steps and try.
You must be willing to look foolish, to get dirty, to make a mistake, to get up after being knocked down, to bleed and to fail.
If you want it, you are going to have to get it. You can have results or your excuses, but you can't have both.  The Quitter Inside likes to tell you that "other people have tried and failed" or that "Its been done before" or the ever popular "I don't think I can".  The truth of the matter though, is that The Quitter has never tried.  The Quitter has never taken that leap of faith or tapped into the intestinal fortitude that truly makes life great. "Look before you leap, but leap you must".
The athlete fails in training to succeed in competition" - Unknown
Step 3 –
Control! – Everything you do is under your control.  No one else, it's your fault or your success.  The ability to control our daily lives and I do mean our lives, not those around us or those we work with or those we play with but our lives, is where we have the best defense against The Quitter Inside.
The simple acts of discipline can combat chaos, willpower can destroy impulse and determination will outwit weakness every time.
The Quitter Inside has only a select few weapons to come at you with and here's the thing –  The Quitter's a coward.  As you build up your immunity you will find that The Quitter Inside rears its ugly head only when you let it.  You have the control.
"It takes less time to do a thing right, than to explain why you did it wrong" - Henry Wadsworth Longfellow
These 3 easy steps when practiced will keep The Quitter Inside away.
I'm curious to hear what your Quitter looks like and your execution strategy?  Send me a note or leave a comment below to share your experiences in dealing with excuses or quitting. Don't forget to SHARE this post to help spread the word and find out how others are killing The Quitter Inside.
«♦»
As always, I welcome all comments and thoughts.
If you're finding "The 365 Effect Blog" interesting then please subscribe to the newsletter and make sure to say hi on Instagram  Twitter and our FaceBook Group
Click on any of the links above to be taken there immediately.