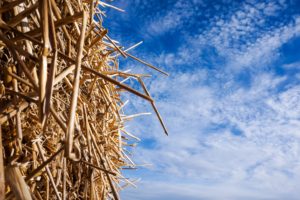 Everyone's heard the idiom "The straw that broke the camels back" but have you ever thought about how that applies to your own life? What are your strategies for strengthening your backbone?
The idiom is from an Arabic proverb about how a camel is loaded beyond its capacity to move or stand.  The inconsequential addition of a single straw (the final straw) is the process that causes failure or the broken back.
What is it about those "Final Straws" and how come there always seems to be so many of them?
Here's a question to think about  – Are the same straws breaking your back over and over again no matter what you've loaded up?
When thinking about today's post I reflected back on my The 365 Effect journey.  I started The 365 Effect in 2009 and at that point I'd no idea what I was getting myself into.  I didn't have a plan, a language or a process outlined for the HOW I was going to finish off this year-long commitment.  All I knew was this:
I had asked myself what it was about my life that I wanted to change
I was on board with this change 100% and had accepted it at a visceral level
I clearly outlined the 4 commitments that I was willing to honor
I had a set time in which I would accomplish it (365 days)
That's it.  That was all I knew going into my first The 365 Effect back in 2009.  I can tell you right now the amount of "Straw" that I carried at times, especially in the first 4 months was staggering.  I was presented with so many different breaking points that at times I didn't know what to do.
What I did know though was that it was only going to be my RESOLVE and my DISCIPLINE that got me to the end  of my 365 days.  I couldn't wish for things to be different or to change in those moments of inner turmoil.  My backbone needed to be strong.
I was the "Line in the sand", it began and stopped with me.
"The individual activity of one man with a backbone will do more than
a thousand men with a mere wishbone"
William J. H. Boetcker
5 key strategies I've learned while working The 365 Effect to strengthen my BACKBONE and not my wishbone
1 – Discipline
It takes daily commitment and action to master anything.  You will find your "Straws" over the course of 365 days of daily commitment and action.  In fact you will find many, but in finding them you will learn how to NOT let them break your back (your focus, your vision, your honor, your will etc).
We must all suffer one of two things: the pain of discipline or 
or the pain of regret or disappointment.
Jim Rohn
2 – Schedule
Chart your daily course of action.  There isn't a ship in the world that puts out to see without some sort of navigational aid.  You must schedule your days and maximize your most effective times and energy cycles.  If your body in the morning feels like the "Tin Man" from the Wizard of Oz don't try to plan your workouts then – schedule them in at the best time of the day for you.  I love this image of Benjamin Franklin's daily schedule and am personally trying to plan each day with this model in mind.
 3 – Let GO of negative and non-serving bullshit
We carry around way to much BS.  Everyday we ingest more and more crap from the external world.  News media, gossip, workplace posturing, negative self thoughts and the list goes on and on.  We fill ourselves up with it, so much so that we are left without room to do all the amazing stuff we hope to accomplish in a day.  A good read is one of the principles of The 365 Effect called Backpack Thinking.  In essence, it simply means don't try to carry EVERYTHING around with you at all times.  There are times when you need to bring more stuff to the table and have more resources at your disposal but for the most part you have to "unclip" that invisible backpack that hangs from your shoulders once in a while.  Even more important is to take stock of what you're carrying around and check to see if it even has relevance in your life anymore.
4 – Simplicity
Ever bitten off more than you can chew?  Of course you have but what did you do next?  You most likely reassessed and then broke it up into smaller more manageable pieces.  It's something that we tend to do without thinking but not something we tend to think about when setting a goal or commitment.  People tend to do well in REACTION to biting off more than they can chew (or they crash and burn or crawl up into a ball and hope it will go away) but they rarely start off thinking small.  Getting S.A.M. on your side takes the "Wishbone" out of the equation right from the beginning.  In order to build that strong backbone you must succeed and build a success mentality from the very beginning.   Pick apart, whittle down and simplify your actions into an "Unable to Fail" commitment that you can't help but succeed in on a daily basis.
5 – Support
No matter how much of a "Rock Star" you think you are, chances are that you can't be as big as your want to be on your own.  Sure you can go off and make a ton of noise and raise a ruckus but you will never reach your true potential until you ask for help.  Help however, can come in many different ways but without mentorship, alliances and insight from those much smarter than you , that "Wishbone" of yours will only get bigger.  It takes a strong backbone to ask for help and an even stronger one to help others.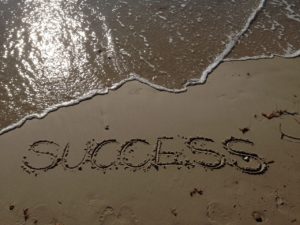 «♦»
As always, I welcome all comments and thoughts.
If you're finding "The 365 Effect Blog" interesting then please subscribe to the newsletter and make sure to say hi on Instagram  Twitter and our FaceBook Group
Click on any of the links above to be taken there immediately.